i

H

i

- Independent-hotels.info - list view
Covid-19 info
France is back open for business again
but the virus has

not

gone away
. It could still come back. Hotels, large and small, are bound by strict sanitation rules to prevent a resurgence, but there is no such thing as zero-risk. The risks are, nonetheless, mathematically smaller in smaller hotels, with less rooms and less guests, than they are in big hotels. Besides, independent establishments, particularly those that are family-run, have a huge interest in making sure they remain virus-free, as their very survival could depend on it. Many of the small hotels listed on
i

H

i
are in small towns and villages, or even out in the back of beyond, where the virus never showed up even at the height of the pandemic.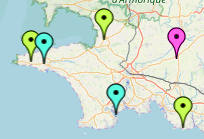 ►

Go to Map view
.
Symbols and price KEY
€
- Not expensive : good value for money.
€€€
Cheapest rooms generally at least 100 € per night. . Not for travellers looking for budget accommodation.
►
Hotels with no price marker are in between. Rates may vary according to season.
Other symbols
Hotel with swimming pool.
Hotel by the sea.
Hotel in a rural location.
Environment-friendly green hotel -
hôtel vert
-
Character, quality, value
. Finding a nice friendly small hotel in Brittany can be a frustrating task; with thousands of hotels to choose from, finding one that is in an attractive location, offers good value and a friendly welcome can take a lot of time. At iHi, we know that, because we've spent a considerable amount of time seeking out a selection of small hotels in Brittany that offer these qualities, and do so at an honest price providing good value for money. With its auberges, classic hotels, and manors the iHi Brittany hotel guide brings you great places to stay in, from eastern Brittany to the furthest western points. Here is a small choice of selected Brittany hotels, located in the country, on the coast, or in seaside resorts but away from the noise of busy thoroughfares. The directory welcomes
suggestions
from travellers and hotel owners.
Hotels in Côtes d'Armor department - northern Brittany
Hotels in Finistère department - western Brittany
Audierne (29 Finistère - west of Quimper)
The ★★★ Auberge du Cabestan

€

Traditional, family owned hotel in Audierne with restaurant and 17 charming and comfortable bedrooms. Situated in a hamlet location 2km from sandy beaches and from the small fishing port of Audierne, the pier to the île de Sein and the GR34 coastal path, and just 12 km from Pointe du Raz.
Plogoff, Pointe du Raz, (29 Finistère)
The small ★★★ Hotel Ker Moor is housed in a 100-year old building almost at the extreme western tip of France, on the cliffs three hundred metres from a sandy beach, and four miles from Pointe du Raz. 12 rooms, marvellous location, heated indoor pool, excellent reviews for the hotel, the location and the restaurant.
Plougenvelin, Pointe St Mathieu (29 Finistère - west of Brest)
The ★★ Hotel Vent d'Iroise

€

is a modern two-star hotel comprising old croft-type buildings, close to the lighthouse at Pointe St Mathieu, west of Brest, one of the western tips of Brittany. Coastal footpath right beside the hotel, clifftop walks and small coves easily accessible. Must be an impressive place to stay when an Atlantic gale is blowing in....
North coast of Brittany - St Pol de Léon (29 Finistère)
The Hotel du Cheval Blanc ★★

€

Green-key certified hotel in the small town of St Pol de Léon, less than 5 miles from the ferry port at Roscoff . Popular with cyclists; bike hire available. Nineteen rooms, including one with disabled access. Bar, terrace, free parking. Clean, friendly, good value for money.
Loctudy, near Quimper (29 Finistère)
The Hotel La Porte des Glénan is located in the small fishing village of Loctudy, on the south Finistère coast. A friendly family hotel just a few yards from the sea; bright clean rooms, bar, terrace, garden, restaurants nearby. Good value for money, and generally well recommended.
West coast Brittany - Crozon peninsula (29 Finistère)
The Hostellerie de la Mer ★★
Small hotel in in the little fishing port of Crozon, south of Brest. Peaceful location, friendly and welcoming staff, and a well reviewed restaurant offering local seafood and other local home-made produce. 21 rooms. Packed lunches available
Nevez, Raguenez point , (29 Finistère)
The ★★★ Hotel Ar Men Du stands at the end of Raguenez Point, on the south coast of Brittany, south of Pont Aven. Sea views on three sides. Beaches, coastal footpath 200m. Peaceful location, simple but clean rooms, friendly staff, Michelin starred restaurant with reasonable prices.
Plovénez-Porzay, near Douarnenez
Manoir de Moellien ★★★ Fine 17th century manor house in a peaceful rural setting in the Breton countryside, four kilometres from the sea. Spacious comfortable rooms and a good restaurant, a wonderful place to enjoy the peace and quiet of rural Brittany.
Hotels in Morbihan department - southern Brittany
Sainte Anne d'Auray, near Vannes
Hôtel la Croix-Blanche - ★★ Two star hotel located in its own grounds in the centre of the small town of Sainte Anne. Free shaded parking. Good value for money at this clean and friendly hotel, centrally located between Vannes and Lorient, ideal for discovering the coast and inland areas of Morbihan.
Baud, between Pontivy and Lorient, (56 - Morbihan)
The ★★ Auberge du Cheval Blanc (White Horse inn) is a charming 18th century hotel in the little town of Baud in southeast inland Brittany . Comfortable rooms, an excellent restaurant, and very good value for money. The hotel has a sauna, terrace and garden.
Noyal-Muzillac, (56 - Morbihan)
Manoir de Baudevran

€€€

Southern Brittany The Hotel Manoir de Baudevran is set amongst gardens in the Breton countryside, about 15 km drive from the Morbihan coast. With just six guest rooms, this is a hotel that needs to be booked well in advance during peak periods.
Hotels in Ille et Vilaine department - eastern Brittany
Click here for
selected small hotels in Normandy
Or view more
Green hotels
in Brittany