Petits hôtels en Languedoc
Independent-

h

otels.info - hotels you'll

love

staying in -

2022
Covid-19 info
France is back open for business again
but the virus has

not

gone away
. It could still come back. Hotels, large and small, are bound by strict sanitation rules to prevent a resurgence, but there is no such thing as zero-risk. The risks are, nonetheless, mathematically smaller in smaller hotels, with less rooms and less guests, than they are in big hotels. Besides, independent establishments, particularly those that are family-run, have a huge interest in making sure they remain virus-free, as their very survival could depend on it. Many of the small hotels listed on
i

H

i
are in small towns and villages, or even out in the back of beyond, where the virus never showed up even at the height of the pandemic.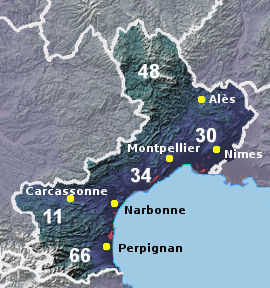 .
Symbols and price KEY
€
- Not expensive : good value for money.
€€€
Cheapest rooms generally at least 100 € per night. . Not for travellers looking for budget accommodation.
►
Hotels with no price marker are in between. Rates may vary according to season.
Other symbols
Hotel with swimming pool.
Hotel by the sea.
Hotel in a rural location.
Environment-friendly green hotel -
hôtel vert
-
Holidaying in Languedoc ....

With airports at Carcassonne, Perpignan, Béziers, Montpellier and Nimes, served variously by low-cost flights from the UK, Belgium, Germany and Scandinavia, Languedoc is an easy part of France to reach for a short break or a longer stay. The long sandy beaches offer plenty of room for everyone, specially in June, September and October, when the summer crowds have gone home.
Inland, the area is famed as the largest wine-producing area in France, and there are plenty of vineyards to visit and local wines to sample.
There is also plenty to see, from the
Cathar castles
in the south, to the iconic mediaeval walled city of
Carcassonne
, or the fine Roman remains at
Nimes
, and another ancient walled city at Aigues Mortes.
South : Aude and Eastern Pyrenees departments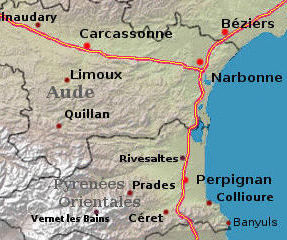 Aude and Pyrenees Orientales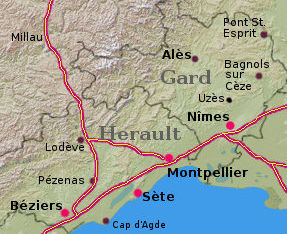 Gard and Hérault departments
€

Béziers, (34 Hérault)
Hotel des Poètes. ** A small hotel just 200 metres from the train station, and looking out over the Plateau des Poètes park, just beyond the lower end of the Allées Paul Riquet, the main tree-lined boulevard in old Béziers. Bedrooms are decorated with simple but good taste. The whole of the old city is within easy walking distance.

€

Sète (34 Hérault)
Hotel le National ** Small two-star hotel in Sète, with 27 rooms. Located in the old part of town, close to marinas and within easy walking distance of the train station, the hotel is not far from the sea front. Recently renovated, this hotel has very good visitor reviews, and offers good value for money.
*
Gites in Provence and the Riviera
► Return to iHi France home page


iHi - Independent-hotels.info
Inscrire un hôtel indépendant à iHi :
Pour une inscription gratuite à l'annuaire des hôtels indépendants, voir la page inscriptions. Ne soumettre que des établissements indépendants, bénéficiant d'un cadre calme et agréable. L'annuaire iHi - France accepte des établissements indépendants appartenant à des chaînes d'indépendants, comme Logis de France.
Small hotels with character in the Languedoc
Languedoc is the "other" South of France....
While the exression
south of France
tends to conjure up immediate images of Provence and the French Riviera, there's a lot more to the South of France than just the area between the River Rhone and the Italian border. To the west of the Rhone, and stretching as far as the Pyrenees there's the area popularly known as Languedoc, which was known officially until 2016 as the Languedoc Roussillon region.
Languedoc is the region of long sandy Mediterranean beaches, of the wooded mountains and valleys in the Cévennes; it is the ancient land of the Cathars, and the eastern end of the Pyrenees. Since 2016 this area has been joined administratively with the region to the west, including most of Gascony, in a much larger area stretching almost to the Atlantic, and known as
Occitanie
.
Languedoc is a busy tourist region, and France's leading wine-producing area in terms of volume. Its coast has kilometer upon kilometer of long sandy beaches, meaning that in between the popular tourist resorts there are plenty of areas of seashore where there is more than enough room for everyone, even in the peak holiday season. As for the vineyards, once they were known for producing a large proportion of the table wine consumed in France, but in recent years they have begun to produce a lot more quality wine aimed at more discerning customers.
Languedoc also has lots of history. Its main port, Sète, is small compared to Marseille or Barcelona, but is an active port, as well as being a popular and picturesque seaside resort with one of the region's many yachting marinas. Among heritage sites in Languedoc are the remarkable walled city of Aigues Mortes, in the east, from where the Crusaders once set out on their journeys east, or Collioure in the south, a very pretty small seaside town with its castle and church standing at the water's edge. Inland, Languedoc boasts the historic "Cathar castles", impregnable medieval fortresses built mainly in the foothills of the Pyrenees, as well as the remarkable heritage city of Carcassonne.
Flanking the edge of the coastal plain, the heavily wooded Cévennes mountains contain one of France's larger National Parks, and provide plenty of opportunity for outdoor activities from hiking and kayaking to bird-watching and swimming in the clear waters of mountain streams and rivers.
Along the coast and in the major cities such as Montpellier or Nimes, there are plenty of large hotels, many of them belonging to the major chains; but for visitors who prefer something less impersonal, more convivial, Languedoc has a good selection of small independent hotels, some of which have been selected for the iHi guide.
Quality, character:
The
i

H

i France independent hotel guide
has selected or approved choce of small friendly hotels, generally in quiet locations. to be listed on iHi, hotels must meet listing criteria, offer good value, and be well recommended by visitors.
Ihi lists a range of hotels from unstarred hotels to five-star hotels. Stars, and even the lack of them, are not a perfect guide to quality, since some hotels, particularly small hotels, deliberately forgo stars to which - quality-wise - they are entitled, since stars cost money and this has to increase room prices. they may also increase the local tourist tax, as many districts charge different rates according to the number of stars a hotel has.
Reservations / booking.
No hotels can be booked on iHi. To check prices and make bookings, you will leave iHi and be taken either to a hotel's own independent website, or to our partners
Hotels.com
and
Booking.com
where you can book and pay in English or in your own language. iHi has no booking software and takes no part in any booking process.
While online booking portals guarantee the best online rates for hotel booking, many small independent hotels have a policy of fixed room rates that will be the same however the booking is made.
i

H

i
-
I

ndependent-

h

otels.

i

nfo


Annuaire de petits hôtels indépendants
.
Hotels in other regions


Tap the map or return to index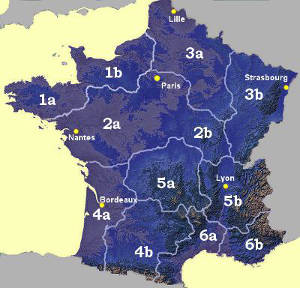 >