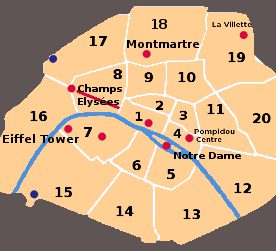 There are over 2000 hotels in and around Paris, so finding the right one for your needs can be a time-consuming task. iHi presents a
carefully chosen selection
of
small Paris hotels
with individuality and character.
Hotels for all budgets
Note: hotel prices in and around Paris are higher than in other regions
€
- Not expensive by Paris standards: good value for money . Some rooms may well be under 100 €, though not always.
€€€
In Paris, rooms generally always over 250 € per night. Not for travellers on a low budget.
€€€€
In Paris, rooms generally at least 500 € per night, maybe quite a bit more.
Hotels selected for listing on iHi range from the cheap 'n' cheerful, for those travelling on a budget, to the chic and graceful for those looking for something special to remember their trip by. These hotels are all independent establishments, many of them family run. Some are relatively cheap by Paris standards, some are quite expensive, but none are overpriced, and all of them get lots of good visitor reviews.
The
P
symbol denotes hotels with parking, though it will not be free. Most central Paris hotels do not have parking facilities. For visitors arriving by car, check out a selection of hotels on the
outskirts of Paris
, with easy access to trains / metro.
This is a selection of hotels to remember. The IHI directory gives priority to hotels in quiet locations away from the noise of busy streets. Most if not all hotels listed offer
free wifi.
iHi welcomes
suggestions
from travellers and hotel owners.