Independent-

H

otels.info - the Independent Hotel directory
Small independent hotels
in the
French Alps and Rhone valley areas
►

Petits hotels en Rhone-Alpes
I

ndependent-

h

otels.

i

nfo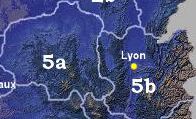 Symbols and price KEY
€
- Not expensive : good value for money.
€€€
Cheapest rooms generally at least 100 € per night. . Not for travellers looking for budget accommodation.
►
Hotels with no price marker are in between.
Rates may vary according to season.
Other symbols
Hotel with swimming pool.
Hotel by the sea.
Hotel in a rural location.
Environment-friendly green hotel -
hôtel vert
-
A seriously selective directory of nice quiet hotels with character. The
i

H

i France independent hotel guide
lists small independent hotels with character, that offer a relaxing environment and good value for money.
i
H
i
welcomes
suggestions
from travellers and hotel owners.
►
Click any hotel link for details, photos, location map, prices and booking.
For area 5a Massif Central, click
here
Symbols and price key: see below if viewing on a small screen

Area 5b) The French Alps - Savoy, northern Alps, and the Rhone Valley
*
Self-catering gîtes and holiday cottages in the French Alps
*
Gites in Provence and the Riviera
►
Return to iHi France home page
Inscrire un hôtel indépendant à iHi :
Pour une inscription gratuite à l'annuaire des hôtels indépendants, voir la page inscriptions. Ne soumettre que des établissements indépendants, bénéficiant d'un cadre calme et agréable. L'annuaire iHi - France accepte des établissements indépendants appartenant à des chaînes d'indépendants, comme Logis de France.
Page and website © Independent-hotels.info. unless otherwise indicated
To contact iHi or suggest a hotel please use the

contact

form - About iHi
Small Rhone-alpine hotels ...
Just selected small hotels under independent management in the French Alps and Rhone valley areas.
The Rhone-Alpes area of France stretches from the flat plains of the Saone valley, to the north of Lyon, down to the limits of Provence in the lower Rhone Valley. While most of the region is east of the Rhone corridor, and includes the former Alpine duchies of Savoy and Dauphiné, it also covers an area to the west of the Rhone, including part of the upper Loire valley and the Mediterranean hinterland of the Ardèche. It is one of the largest and most varied regions in France
The Rhone-Alpes area covers the following departments (Alpine departments first). Departments and main towns.
38 Isère
: Alps, Grenoble
73 Savoie
: Alps, Chambéry
74 Haute Savoie:
Alps, Annecy, Chamonix
01 Ain:
Southern Jura, Dombes, Bourg en Bresse
42 Loire:
St Etienne - eastern Massif Central
69 Rhone
: the area around Lyon
07 Ardèche
- west of the Rhone, south of Lyon: Privas
26 Drome
- east of the Rhone, south of Lyon: Montélimar
More hotels in the cities of Rhône Alpes
If you are looking for a city hotel in the Rhône Alpes region, iHi sugests that you go directly to a booking portal where you will be presented with a large choice of hotels of all types - chains and independents, big and small.
►
Find a hotel in
(
click the name of a city
) ...
Photo left or below : From a photo by Uspcboy
Licence creative commons