Covid-19 info
France is back open for business again
but the virus has

not

gone away
. It could still come back. Hotels, large and small, are bound by strict sanitation rules to prevent a resurgence, but there is no such thing as zero-risk. The risks are, nonetheless, mathematically smaller in smaller hotels, with less rooms and less guests, than they are in big hotels. Besides, independent establishments, particularly those that are family-run, have a huge interest in making sure they remain virus-free, as their very survival could depend on it. Many of the small hotels listed on
i

H

i
are in small towns and villages, or even out in the back of beyond, where the virus never showed up even at the height of the pandemic.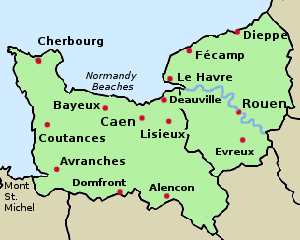 Symbols and price KEY
€
- Not expensive : good value for money.
€€€
Cheapest rooms generally at least 150 € per night. Not for travellers looking for budget accommodation.
► Hotels with no price marker are in between. Rates may vary according to season.
Other symbols
Hotel by the sea.
Hotel with swimming pool.
Hotel in a rural location.

Environment-friendly green hotel -
hôtel vert
-
This page of the
i

H

i France independent hotel guide
offers a carefully-selected choice of small friendly hotels in Normandy. Hand-picked from among many hundreds of hotels in Normandy, these are just small hotels offering a calm, friendly and relaxing environment, hotels that have been recommended by visitors, on account of their good value for money, and their friendly welcome. Some of these hotels are cheap, others are not as cheap; but they have all been assessed as offering an honest deal to visitors. The IHI directory gives priority to rural hotels, seaside hotels and town hotels in quiet locations away from the noise of busy streets. Most if not all hotels listed offer
free wifi.
iHi welcomes
suggestions
from travellers and hotel owners.