►

Petits hotels en Normandie
i

H

i

- Independent-hotels.info
Small independent hotels
in
Normandy, France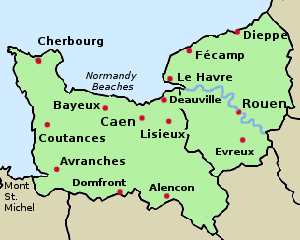 This page of the
i

H

i France independent hotel guide
offers a carefully-selected choice of small friendly hotels in Normandy. Hand-picked from among many hundreds of hotels in Normandy, these are just small hotels offering a calm, friendly and relaxing environment, hotels that have been recommended by visitors, on account of their good value for money, and their friendly welcome. Some of these hotels are cheap, others are not as cheap; but they have all been assessed as offering an honest deal to visitors. The IHI directory gives priority to rural hotels, seaside hotels and town hotels in quiet locations away from the noise of busy streets. Most if not all hotels listed offer
free wifi.
iHi welcomes
suggestions
from travellers and hotel owners.
Viewing on a small screen : for symbols key see
below
Hotels in Upper Normandy
Hotels in Lower Normandy
Bayeux - west of Caen (14 - Calvados)

.
Hotel Lion d'Or Classic traditional three-star hotel in a quiet location in central Bayeux. Comfortable rooms. Lots of good reviews. Conveniently located for D-Day tours and for the Bayeux tapestry museum. The lounge area has memorabilia of people who have stayed here, including one French president and two British prime ministers.
Bayeux (14 - Calvados).
Hotel Reine Mathilde **

€

Excellent value two star hotel in quiet central location in historic Bayeux, just a few yards from the cathedral, the tapestry museum and the D-Day tours pick-up point. Rooms small but adequate and clean. Staff friendly and welcoming . Both the hotel and the restaurant get excellent reviews.
Bayeux (14 - Calvados).
Hotel d'Argouges This three-star hotel is in an 18th century chateau in the heart of Bayeux, but away from the road; a boutique hotel, with 28 en-suite rooms, gardens, very welcoming hosts and an authentic château experience. Free car parking. Easy access to the D-Day beaches, Cotentin and Mont Saint Michel.
Honfleur - near Deauville (14 Calvados)
the Hotel Monet ** is located five minutes walk from the centre and harbour of this popular small seaside resort. At the top end of the two-star bracket, it is good value by seaside resort standards, and gets plenty of good reviews as a clean, calm and welcoming hotel. Rooms with private terraces, bar, free parking.
Ouistreham, near Caen (14 Calvados)
The Hotel Saint Georges ** is an attractive traditional hotel with plenty of charm, 100m from a wide sandy beach, and three minutes drive from the Portsmouth-Caen ferry terminal. Restaurant, garden, free private parking. Friendly and helpful staff, clean and comfortable, and excellent value, specially out of the tourist season. Merits more than its two stars.
Saint-Aubin sur Mer - near Ouistreham and Caen (14 Calvados)
The Clos Normand hotel has a fine seafront location, a good restaurant, and offers good value for money, particularly for half-board. Staff are friendly and welcoming, and the hotel has secure parking. Saint Aubin is an excellent base for discovering the Normandy beaches.
Courseulles-sur-Mer - north of Caen (14 Calvados)
The ** Hotel la Pêcherie is a charming ** seaside hotel located 100 yards from Juno Beach, in this small Normandy seaside town. Six rooms, restaurant with views to the sea. Both hotel and restaurant get very good reviews, as does the friendliness of the staff and the welcome. Excellent base for discovering the sites of the Normandy landings. Free car parking
Cormeilles - Pays de Caux between Rouen and Caen (27 - Eure)
The Auberge du Président - a good quality two star hotel - is a typical Norman country inn, and has been recently renovated. It has a spa and a sauna, and a garden, and provides free parking. A clean, comfortable and friendly hotel, with a good quality restaurant serving Norman specialities.
Continued below....
Visiting Normandy in the summer months?
Hotels can book up fast in busy periods, so book early to avoid disappointment.
Near Avranches (50, Manche)
Le Moulin de Ducey *** Fifteen minutes from Mont Saint Michel, quiet boutique hotel in a peaceful environment, beside the river in the small Norman town of Ducey. A very friendly welcome is assured in this old converted watermill. The hotel provides good breakfasts, and there is a bar but no restaurant. However there are restaurants within walking distance. This hotel gets excellent reviews. Very good value.
St. Germain sur Ay, Cotentin (50, Manche)
La Ferme des Mares.*** On the west coast of the Cotentin peninsula, less than two miles from a great sandy beach, Ferme des Mares is a delightful and refined guesthouse in a peaceful rural location. It has 10 guest rooms, gardens and a well recommended and reasonably priced restaurant.
Near Valognes (50, Manche)
Manoir de Savigny.*** this 500-year old Normandy manor house is set in its own grounds in the middle of the Cotentin peninsula, south of Cherbourg. Very favourable reviews. Restaurants in nearby Valognes, 3 km away. An ideal base for visiting the area from the Normandy beaches to Mont Saint Michel.
Le Mont Saint Michel (50, Manche)
Auberge Saint Pierre.*** Clean and generally comfortable hotel half way up the Mont. A place to choose for the charm of a night actually on the Mount. Fairly small rooms, but clean and comfortable. And don't forget that you'll need to walk to the hotel from the car park, which is outside the walls. Restaurant gets reasonable reviews.
Le Mont Saint Michel (50, Manche)
Hotel le Mouton Blanc.** This is all about location. Staying on the rock overnight, after the day visitors have gone, is a special experience. Le Mouton is cheaper than other hotels, and adequate for most visitors . Rooms are simple and not large, but you don't expect big rooms in the restricted area of the Mount. The restaurant gets mixed reviews - not surprising considering the tourist trap location.
Bagnoles de l'Orne - south of Flers (61 Orne)
The *** Bagnoles hotel Located in Bagnoles de l'Orne, in the very south of Normandy, and in the heart of the Normandy-Maine nature reserve, this is a clean attractive modern 20-room hotel, with garden terrace and restaurant. Both the hotel and the restaurant score top marks in user reviews for cleanliness, comfort, staff and value.
►
Return to iHi France
Normandy...
is a great choice both for a short break and for a longer holiday. Easily accessible both Paris and northern France, but also from the UK, thanks to direct ferry crossings, Normandy offers plenty of opportunities for a seaside break, or a relaxing stay in its rural hinterland.
As well as its long sandy beaches, its bucolic countryside and its famous specialities such as Camembert cheese and Calvados, Normandy also has the D-Day landing beaches, the Bayeux tapestry showing William the Conqueror at the Battle of Hastings, the Cotentin peninsula, the Impressionist museum at Giverny and many other interesting sites.


Symbols and price KEY

€

- Not expensive : good value for money.

€€€

Cheapest rooms generally at least 100 € per night. . Not for travellers looking for budget accommodation.

►

Hotels with no price marker are in between.

Rates may vary according to season.

Other symbols

Hotel with swimming pool.

Hotel by the sea.

Hotel in a rural location.

Environment-friendly green hotel -
hôtel vert
-
By clicking for more information on a hotel, you will be taken either to the hotel's own website, or to its page on an online booking portal, where you can book directly online in English. For this purpose,
iHi
works in partnership with
Hotels.com
(part of Expedia) and
Booking.com
While online booking portals guarantee the best online rates for hotel booking, many small independent hotels have a policy of fixed room rates that will be the same however the booking is made.
For more information on booking procedures, click here