Hauts de France region

Nord - Pas de Calais

,

capital Lille, is the most northerly part of France, lying between the English Channel, the North Sea and the Belgian border. The eastern half of the region, French Flanders, is mostly quite flat land and a heavily populated area that was once France's industrial heartland.

The Lille - Roubaix area has a number of first-class art galleries. The western part of the region is more rural, with gentle undulating hills and valleys, small towns and coastal resorts. This area has been in the strategic heart of Europe since the middle ages, and was once famous for its cloth and textiles.
Picardy
capital Amiens, is a largely rural area, hilly in the west, largely flat agricultural land in the east. The south of the region very much gravitates towards Paris
Grand-Est region
Champagne Ardenne
- capital Chalons en Champagne, biggest city Rheims, is a largely agricultural part of France, with is world famous vineyards in the south of the region, large expanses of open farmland in the middle, and the forests of the Ardennes in the north, near the Belgian border..
By clicking for more information on a hotel, you will be taken either to the hotel's own website, or to its page on an online booking portal, where you can book directly online in English. For this purpose,
iHi
works in partnership with
Hotels.com
(part of Expedia) and
Booking.com
While online booking portals guarantee the best online rates for hotel booking, many small independent hotels have a policy of fixed room rates that will be the same however the booking is made.
For more information on booking procedures, click here
►

Hôtels dans le nord est de la France
I

ndependent-

h

otels.

i

nfo
Small hotels in northern France : North, Picardy, Champagne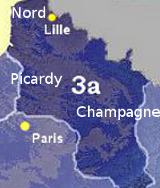 Directory of small independent hotels in the North of France
Quality, character, price
-
i

H

i France
is a very selective directory of small independent hotels in calm locations - including classic town and city hotels, as well as village hotels and rural inns away from the main roads.
This page covers the regions of Picardy, Champagne and Nord - Pas-de-Calais, stretching from the outskirts of Paris - just north of CDG Charles de Gaulle airport, as far as the Belgian border and the coasts of the North Sea and English Channel.To feature in the iHi directory, hotels must meet iHi quality criteria, and receive favourable and or favourable reviews.
Symbols and price key: see below if viewing on a small screen


Click any hotel name for further details and to book
Lille, centre

Hôtel Hermitage Gantois
-

€€€

top quality hotel in central Lille
Book with Hotels.com or with Booking.com
Reasonably priced (for a) five-star hotel in central Lille, close to the Art Gallery and in walking distance of the historic quarter. This hotel is housed in a former 17th century hospice, and visitors can enjoy the old cloisters, enclosed gardens and old library.



More

: Large selection of hotels of all categories in Lille


Near

Chalons en Champagne

(51 - Marne )




Auberge des Moissons

*** logis inn in the heart of Champagne
Book with Hotels.com or with Booking.com
This traditional inn lies in a village 3 km from Exit 17 of

A26 motorway

, about 300 km. south from Calais. Easy access along D3. Friendly English-speaking staff, good-size rooms and a cosy atmosphere in this former farmhouse. The restaurant gets very good reviews.

Epernay (51 - Marne)


Hotel Jean Moët : ****

€€€

Recently renovated quality four star independent hotel in the centre of the small town of Epernay, capital of the Champagne industry. Spacious rooms, English-speaking staff; Plenty of restaurants close by.

Near Epernay
Chateau d'Etoges : ****

€€€

Eighteenth century castle hotel, in grounds of 20 hectares with landscaped gardens; some rooms have four poster beds. Located between Epernay and Sézanne, with easy access to the Champagne vineyard area. This hotel has a lot of good reviews.