Covid-19 info
France is back open for business again
but the virus has

not

gone away
. It could still come back. Hotels, large and small, are bound by strict sanitation rules to prevent a resurgence, but there is no such thing as zero-risk. The risks are, nonetheless, mathematically smaller in smaller hotels, with less rooms and less guests, than they are in big hotels. Besides, independent establishments, particularly those that are family-run, have a huge interest in making sure they remain virus-free, as their very survival could depend on it. Many of the small hotels listed on
i

H

i
are in small towns and villages, or even out in the back of beyond, where the virus never showed up even at the height of the pandemic.
A directory of small independent hotels in the North of France
Quality, character, price
-
i

H

i France
is a very selective directory of small independent hotels in calm locations - including classic town and city hotels, as well as village hotels and rural inns away from the main roads.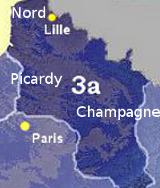 This page covers the areas of Hauts de France (Picardy and Nord - Pas-de-Calais) and Champagne, stretching from the outskirts of Paris - just north of CDG Charles de Gaulle airport, as far as the Belgian border and the coasts of the North Sea and English Channel.To feature in the iHi directory, hotels must meet iHi quality criteria, and be well reviewed.
€
- Not expensive : good value for money.
€€€
Cheapest rooms generally at least 100 € per night. . Not for travellers looking for budget accommodation.
►
Hotels with no price marker are in between.
Rates may vary according to season.
Other symbols
Hotel with swimming pool.
Hotel by the sea.
Hotel in a rural location.
Environment-friendly green hotel -
hôtel vert
-