THE

iHi

INDEPENDENT HOTEL DIRECTORY
I

ndependent-

h

otels.

i

nfo
Small hotels
in
Midi-Pyrenees - Gascony - 2023
Covid-19 info
France is back open for business again
but the virus has

not

gone away
. It could still come back. Hotels, large and small, are bound by strict sanitation rules to prevent a resurgence, but there is no such thing as zero-risk. The risks are, nonetheless, mathematically smaller in smaller hotels, with less rooms and less guests, than they are in big hotels. Besides, independent establishments, particularly those that are family-run, have a huge interest in making sure they remain virus-free, as their very survival could depend on it. Many of the small hotels listed on
i

H

i
are in small towns and villages, or even out in the back of beyond, where the virus never showed up even at the height of the pandemic.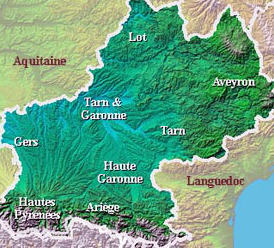 Symbols and price KEY
€
- Not expensive : good value for money.
€€€
Cheapest rooms generally at least 150 € per night. . Not for travellers looking for budget accommodation.
►
Hotels with no price marker are in between. Rates may vary according to season.
Other symbols
Hotel with swimming pool.
Hotel by the sea.
Hotel in a rural location.
Environment-friendly green hotel -
hôtel vert
-
Hotels in Midi-Pyrenées / Gascony - by department
Hotels in the Lot
Hotels in Ariège
Hotels in the Aveyron
Hotels in the Tarn
Hotels in Haute Garonne
Hotels in the Gers
Hotels in the Hautes Pyrénées
► Return to iHi France home page
By clicking for more information on a hotel, you will be taken either to the hotel's own website, or to its page on an online booking portal, where you can book directly online in English. For this purpose,
iHi
works in partnership with leading booking portals
Hotels.com
and
Booking.com
While online booking portals guarantee the best online rates for hotel booking, many small independent hotels have a policy of fixed room rates that will be the same however the booking is made.
iHi is a travel information website and not a travel agency. Information is provided by hotels and online booking sites in good faith, and iHi is not involved in any transaction or reservation conducted between third parties.

The Midi-Pyrenees Area
Now part of the larger region of Occitanie, which also includes Languedoc to the southeast, Midi-Pyrenees is the region centred on the city of Toulouse. In the Middle Ages, this part of France was an autonomous state, and in many ways even today it seems a long way from Paris... which indeed it is.The north of Midi-Pyrenees includes the hill country of the Aveyron and the Lot; the middle of the region is the gently undulating plain of the Garonne, while on its southern fringe the region is mountainous, including most of the French Pyrenees and their foothills. For more on this area see
Midi Pyrenees
on About-France.com.
Today
Midi-Pyrenees
is the western half of the region of Occitanie, and is bigger than Belgium, and includes most of Gascony. Apart from the area round the regional capital Toulouse, it is a very rural area. Among the most visited places in Midi-Pyrenees are the historic cities of Toulouse, Cahors, Albi and Rodez. The most popular holiday area is the high Pyrenees, which form the border between France and Spain.
iHi - small hotels for all budgets
All the hotels listed in the
i

H

i France independent hotel guide
have received good reviews and are recommended by guests. Whether in town or in the country, hotels listed with
i

H

i
are selected for their character and their conviviality, offering a calm, friendly and relaxing environment to travellers. The
i

H

i
directory gives priority to country hotels offering good value for money, or town hotels in relatively quiet locations.
i

H

i
welcomes
suggestions
from travellers and hotel owners.
Inscrire un hôtel indépendant à iHi :
►
Pour une inscription gratuite à l'annuaire des hôtels indépendants, voir page
inscriptions
►
Ne soumettre que des établissements indépendants, bénéficiant d'un cadre calme et agréable. L'annuaire iHi - France accepte des établissements indépendants appartenant à des chaînes d'indépendants, comme Logis de France.
Website © Independent-hotels.info.
Website © Independent-hotels.info. - Photo top of page - Gascony sunset, by Raymond Camus - CC2.0 licence
Get in touch